HAWA MAHAL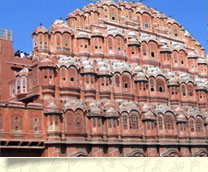 Hawa Mahal is a major landmark and a famous tourist attraction of Jaipur. The Palace offers a beautiful sight to behold. The splendid Rajputana architecture of Hawa Mahal, still speaks the glory of the royal family. However, one can also find a glimpse of Mughal architecture, which is blended perfectly to make it different from others. The literal meaning of Hawa Mahal is Palace of Winds. Hawa Mahal was built by Maharaja Sawai Pratap Singh in 1799.

Hawa Mahal is a pyramid-shaped facade with five stories. It has 953 small windows decorated with tiny lattice work. These pink sandstone windows commonly known as "Jharokhas" are constructed in such a style, that it looks like a giant honeycomb.

THE CITY PALACE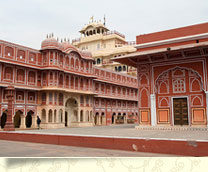 The City Palace is now converted into a museum, except a small portion that is still used by the royal family of Jaipur. One of the major attractions in the museum is the portion that is devoted to the arms and ammunition used by the royal family in the past. Other important attractions are the Textile and Costume Museum, Art Gallery, Chandra Mahal, Mubarak Mahal, and Diwan-i-Khas and Diwan-i-Am.

CENTRAL MUSEUM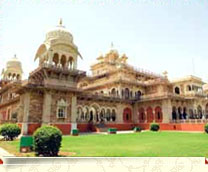 Located in the Ram Niwas Garden, the Central Museum or Albert Hall is a mixture of pillars, arches, and courtyards adorned with murals. There is a huge collection of objects displaying different facets of Rajasthani culture and history.

JANTAR MANTAR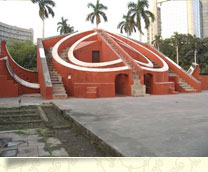 This largest stone observatory in the world Founded by Sawai Jai Singh, , was a great admirer of developments in science and technology, especially astronomy. He built the structures following every detail given in the manual, but at the end, he found to his astonishment that the observatory was 20 seconds more accurate than that given by La Hire. Situated near the gate of the City Palace, the observatory has 18 large instruments, many of them still in working condition.

AMBER FORT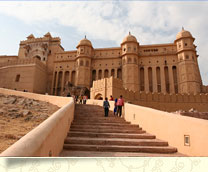 Standing tall over a small hillock overlooking the Pink City, Amber is the classic romantic Rajasthan fort-palace. Man Singh I started the construction of this fort in 1592 and, perhaps, it was the defense that topped his priorities before constructing this fort. The rugged walls of this fort may not look beautiful from outside, but the interior is a virtual paradise. An elephant ride up to the fort is also an unforgettable experience.

JAIGARH / NAHARGARH FORT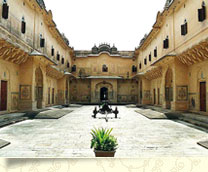 Situated in the north of Jaipur, the Jaigarh Fort is structurally similar to the Amber Fort. The only exception is that it houses the mighty Jaivana, the largest wheeled canon in the world.

---
Hotel in Jaipur
Welcoming you for an ecstatic stay in an ethnic city like Jaipur is Hotel Vimal Heritage, known for its unparalleled services confirming complete relaxation for your senses. Anyone looking for a hotel in Jaipur will find Hotel Vimal Heritage unique and outstanding with its spell-binding exterior along with the cultural impressions expressed through its Rajasthani Colonial style architecture where vivid colours occupy almost every corner reviving you stay. Apart from being centrally located, this exclusive hotel in Jaipur will also let you explore the fine taste of traditional Rajasthani and other sumptuous cuisines in its theme based restaurant – 'The Peacock Darbar Hall'. From the roof-top exquisite bistro to its multi-functional gym and massage parlour, you may be left looking for reasons to rejuvenate yourself to the fullest. Get ready to be treated no less than a Maharaja or a Maharani, crafting unforgettable moments for you.


Hotel Jaipur India
Jaipur is the city which has been praised by many famous personalities for its culture, traditions and the real sprit of serving the guests with great deal of attention. This tradition has been followed for many years in the past and has been continued in the form of modern day hospitality. The scenic view and the exuberating climate are capable of making anybody lazy and fall for nature. Hotel Jaipur India is one clear symbol of tourism to Jaipur with many travelers admiring the excellent hospitality offered by premium hotels like hotel Vimal heritage. They provide the guests with the most needed comfort and ensure every query and concern is addressed with due diligence. The team at the hotel is just experts in customer service who are responsible for many visitors coming back as they find a real personal touch in the services we offer.


Hotels Jaipur
Experience royalty, experience Jaipur. This is how travelers across the globe relate to Jaipur. The city breathes history, art and culture with a spicy dash of royal life. It is the city where you not only experience modern amenities and luxury but a slice of Indian classical history. For us, it is important to give you an exotic experience, in true royal sense. Of the many Hotels Jaipur that exist in and around the city, Hotel Vimal Heritage specialize in a grand living experience. As you enter the hotel premises, you are made to feel like a king. A royal reception followed by a royal living awaits you here. In our hotel, you just don't stay but live like a king – in every little and big way. Come, find out and experience your own kingdom in Jaipur.